Bicester Kitchens - Collaborating With Specialists to Produce Dream Kitchens
In order to give you some insight into how our business functions at Your Kitchen Tailor, here are some work-in-progress photos from one of our kitchens in Bicester.

When your newly delivered kitchen arrives and is piled up in a room as a pile of boxes, it can be hard for you to imagine how it will all come together - but we can make it happen! We work in an ordered, methodical way to minimize the disruption to your home. Your Kitchen Tailor, in tandem with our associates, will take care of everything: including the electrics, plumbing and supplying and fitting your tiling, units and white goods.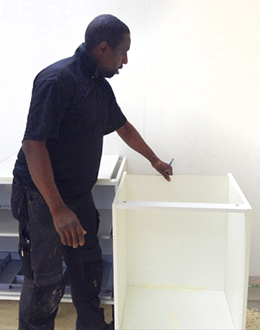 All work is project managed by the director of Your Kitchen Tailor, Phil Hudson, who has decades of industry experience under his belt.
Our company takes extra care in refining the details, as this will be what will set your kitchen apart from the rest: as a result of precise measurements combined with our expertise we will ensure smooth, crisp lines and surfaces from the natural wood flooring to the accent spotlights set into the ceiling.
We maximize the use of available space to ensure you will have plenty of room to move. We realize your kitchen will be a functional area for food preparation and the need for practicality: We keep everything neat and flush both for maximum visual impact and for safety purposes and we ensure doors won't be knocking against any surfaces or appliances to avoid damage.
You'll be amazed at how we manage to transform the realistic, textured, three-dimensional ArtiCAD design you will have been shown from our free design service into reality - a kitchen for you and your family to cherish and call 'your own' for the years to come.
We have spent years attaining excellent business connections with the best, local electricians, engineers, fitters and plumbers. All the people we work with are fully certified and have pride in working to the highest professional standards. Together, we can assemble your dream kitchen quickly and efficiently. Visit our testimonials page to find out what our satisfied customers say about us.
We recommend visiting our showroom in Bicester to see examples of the quality of our work, or give us a phone on 01869 240033 to discuss your ideas and receive expert advice.