Kitchen Design in Oxford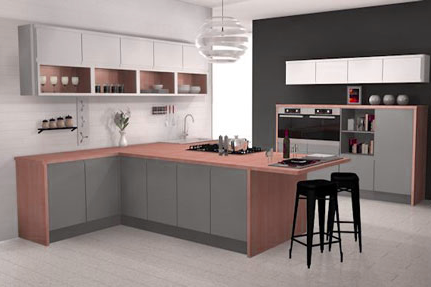 At Your Kitchen Tailor we take great care in understanding your kitchen requirements and producing a design that matches.
Besides our knowledge of the CAD drawing system which we use to create the designs, we bring experience from many years of kitchen design in Oxford, making sure that when you walk around your real kitchen, everything feels right -
doors don't get in the way of cupboards
applicances don't stick out
there is plenty of space to move around
you feel at home.
We will meet with you for an initial consultation and take measurements of your existing space and any non-movable items. We will also discuss your aspirations for the new kitchen and any specific requirements.
Once we have this information, we will produce a design on our CAD system. This can not only produce wire-frame drawings from any angle, but also textured views of the new kitchen (see the picture, right).
We are able to make changes to the draft design if required. Once you are happy with the design, and would like to build the new kitchen, we can take care of the whole process.